In the realm of mental health treatment, an adult intensive outpatient program (IOP) offers a valuable and effective option for individuals seeking comprehensive care while maintaining their daily routines. An intensive outpatient program provides a structured and supportive environment where adults can receive specialized therapy and interventions tailored to their specific needs. This level of care proves particularly beneficial for those who have not experienced significant progress through traditional therapy approaches.
Convenient Locations and Scheduling
Our adult intensive outpatient program offers flexible scheduling options, including after work hours, to accommodate the busy lives of adults. Conveniently located at accessible offices, we strive to make the program easily accessible to individuals seeking support. The goal is to ensure that participants can attend therapy sessions and engage in treatment without sacrificing their professional or personal obligations.
For adults who have not found the desired benefits from traditional therapy or continue to have significant mental health symptoms impacting their personal or professional lives, an intensive outpatient program can provide a more concentrated and targeted approach to treatment. The comprehensive nature of the program allows for a deeper exploration of underlying issues, the development of coping skills, and the enhancement of emotional regulation techniques.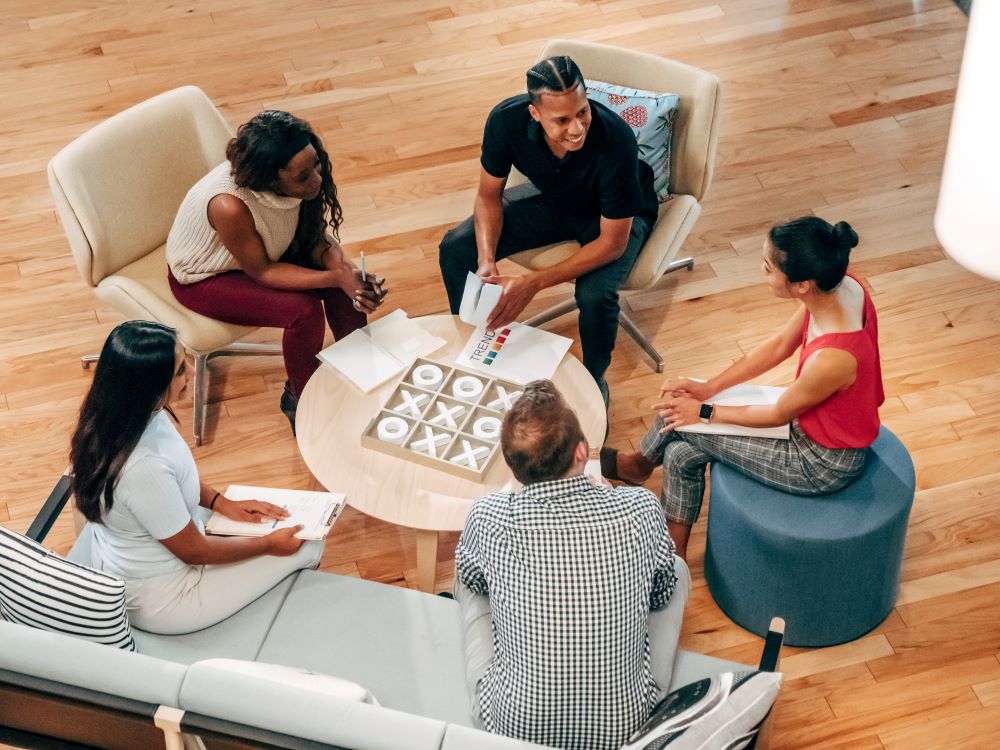 Adult Intensive Outpatient Program Reference Guide
Mental Health Levels-of-Care at Transitions
An adult intensive outpatient program (IOP) offers a higher level of care and structure compared to traditional therapy alone, making it well-suited for adults who have persistent or severe symptoms that have not been adequately addressed by therapy. Unlike psychiatry, which primarily focuses on medication management, an IOP provides a comprehensive approach that includes therapy, group support, and psychoeducation to address the underlying issues and develop coping skills. Additionally, an IOP can be a valuable step for adults who have recently been discharged from an inpatient hospitalization or have progressive symptoms despite weekly therapy and psychiatry.
Transitions Counseling offers multiple levels-of-care in one place, allowing you to receive comprehensive treatment, therapy, psychiatric support, and specialized programs tailored to your unique needs, fostering continuity, convenience, and holistic well-being.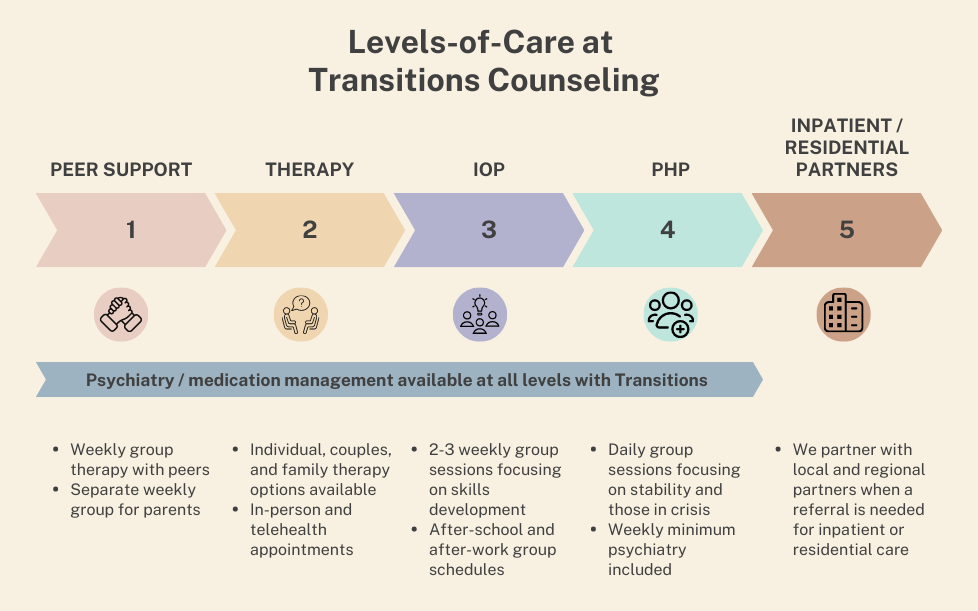 IOP Treatment Typically Features
Dialectical behavior therapy (DBT)
Group therapy sessions
Expressive art therapy
Groups for young adults (early career) and adults (mid-career)
Evidence-based assessments to guide treatment
Referral access to in-house, experienced psychiatry providers
Easily transition to other levels of supportive care as your needs change
Adult Intensive Outpatient Program FAQs