Unique IOP for Neurodiverse Teens
In Arizona, we proudly offer a unique and specialized treatment option with our neurodiverse intensive outpatient program for teens, designed specifically for those who are neurodivergent. Neurodiversity recognizes and celebrates the natural variations in the human brain, encompassing conditions such as autism spectrum disorder, attention- deficit/hyperactivity disorder (ADHD), sensory perception disorder, learning difficulties, and other neurodevelopmental differences.
This intensive outpatient program (IOP) stands as the only program of its kind in Arizona – focusing exclusively on neurodivergent teens. Within this program, we provide a safe and inclusive space where teens can receive comprehensive care tailored to their unique needs. The structured and intensive nature of the program allows for a deeper understanding and targeted approach to addressing the challenges associated with neurodiversity.
Focus on Skills and Emotional Regulation
At our neurodiverse IOP, our compassionate and knowledgeable team provides specialized therapies, individualized interventions, and peer support to help teens develop coping skills, improve social interactions, enhance emotional regulation, and build resilience. By focusing on the strengths and abilities of each teen, we empower them to thrive and achieve their full potential. The IOP serves as a dedicated community for neurodivergent teens, providing a supportive environment where they can connect with others who share similar experiences, fostering understanding, acceptance, and personal growth.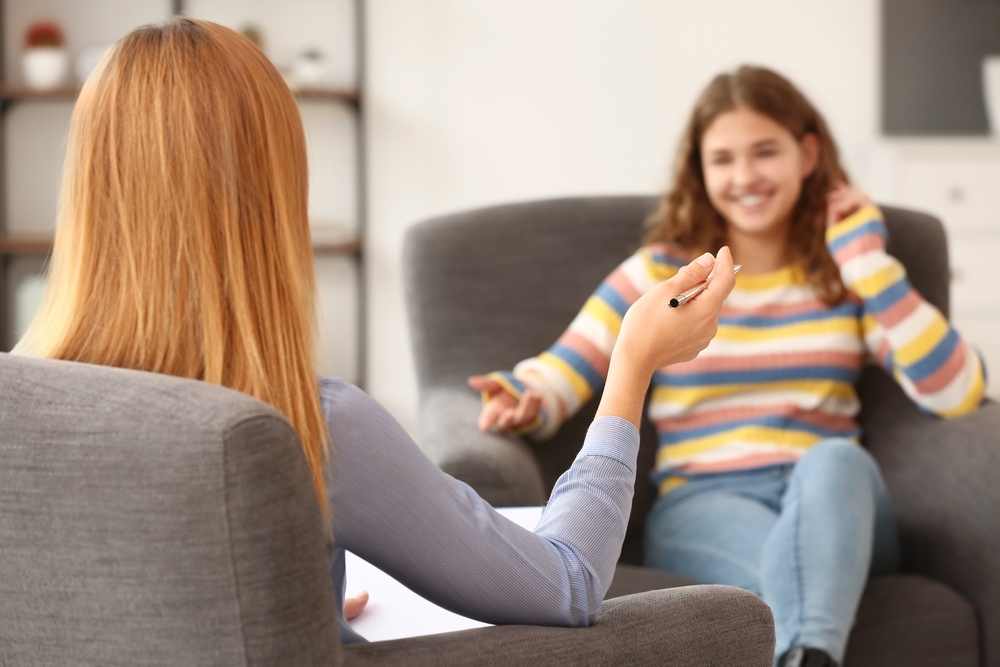 Neurodiverse IOP for Teens Reference Guide
Mental Health Levels-of-Care at Transitions
Therapy involves regular sessions with a mental health professional to address emotional and psychological concerns, typically on an outpatient basis. An intensive outpatient program (IOP) offers a higher level of care with more frequent and intensive therapy sessions, often in a group setting, while
still allowing individuals to live at home. Partial hospitalization programs (PHPs) provide a more structured level of care than IOPs, involving full-day treatment and psychiatry support, while inpatient hospitalization or residential care offers 24-hour supervision and care within a hospital or residential facility for individuals with acute mental health needs.
Transitions Counseling offers multiple levels-of-care in one place, allowing you to receive comprehensive treatment, therapy, psychiatric support, and specialized programs tailored to your unique needs, fostering continuity, convenience, and holistic well-being.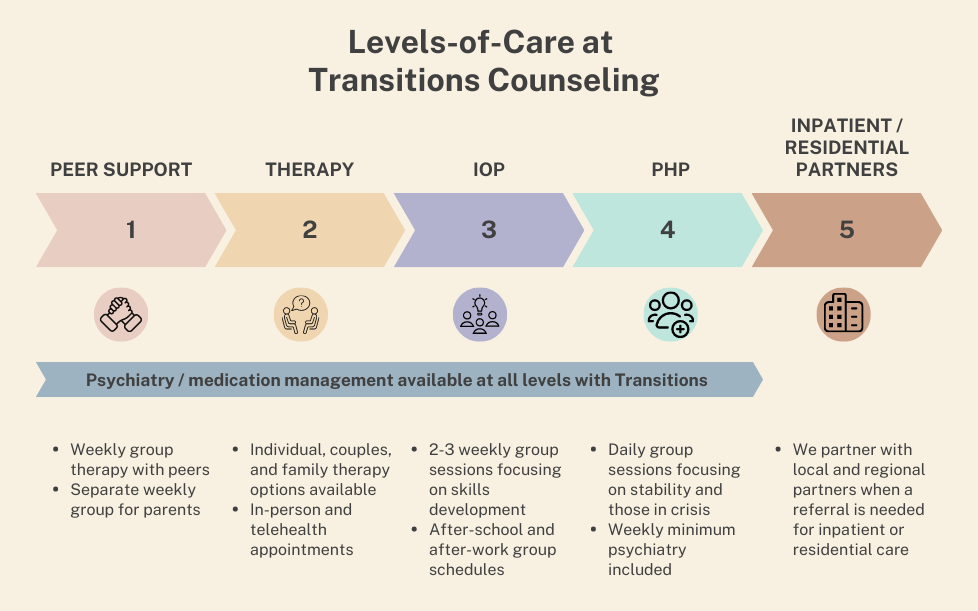 IOP Treatment Typically Features
Dialectical behavior therapy (DBT)
Group therapy sessions
Expressive art therapy
Family therapy and involvement
Access to parent support group
Evidence-based assessments to guide treatment
Referral access to in-house, experienced psychiatry providers
Easily transition to other levels of supportive care as your needs change
Neurodiverse Intensive Outpatient Program for Teens FAQs