A teen intensive outpatient program (IOP) is a comprehensive and highly effective treatment option designed specifically to meet the unique needs of adolescents facing mental health challenges. This specialized program offers a structured and supportive environment where teens can receive intensive therapy while maintaining their daily routines. With our compassionate and skilled team of professionals, a teen intensive outpatient program provides adolescents with the tools, guidance, and support they need to navigate their journey to recovery.
Skill Building and Structure
A teen intensive outpatient program offers numerous benefits for adolescents struggling with mental health issues. It provides a higher level of support and structure compared to traditional outpatient therapy, ensuring that teens receive intensive and targeted care tailored to their specific needs. The program not only addresses the immediate challenges but also equips teens with the skills and tools necessary to maintain long-term mental wellness.
Additionally, a teen IOP fosters a sense of community and peer support. Adolescents in the program have the opportunity to connect with others who are facing similar challenges, allowing them to share experiences, provide encouragement, and develop a supportive network. This sense of belonging can be invaluable as teens work towards their recovery and build resilience.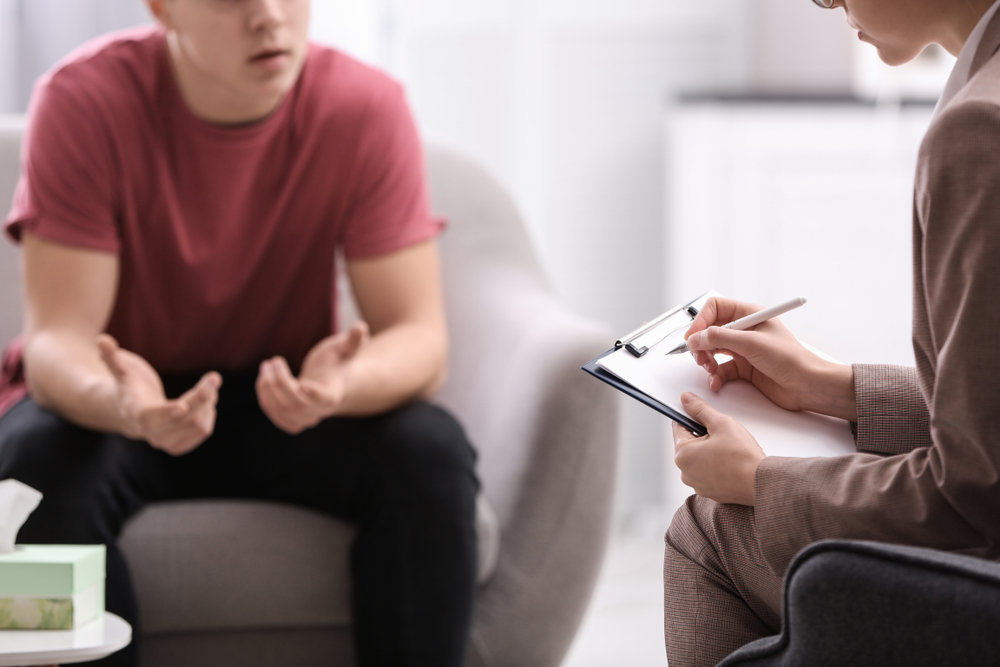 Teen Intensive Outpatient Program Reference Guide
Mental Health Levels-of-Care at Transitions
A teen intensive outpatient program typically falls between traditional outpatient therapy and more intensive levels of care such as a partial hospitalization program (PHP). It provides a higher level of support and structure compared to outpatient therapy, but requires less time than a PHP, making it
suitable for individuals who require more intensive treatment but do not require daily group sessions. Transitions Counseling provides the entire continuum of outpatient mental healthcare for teens.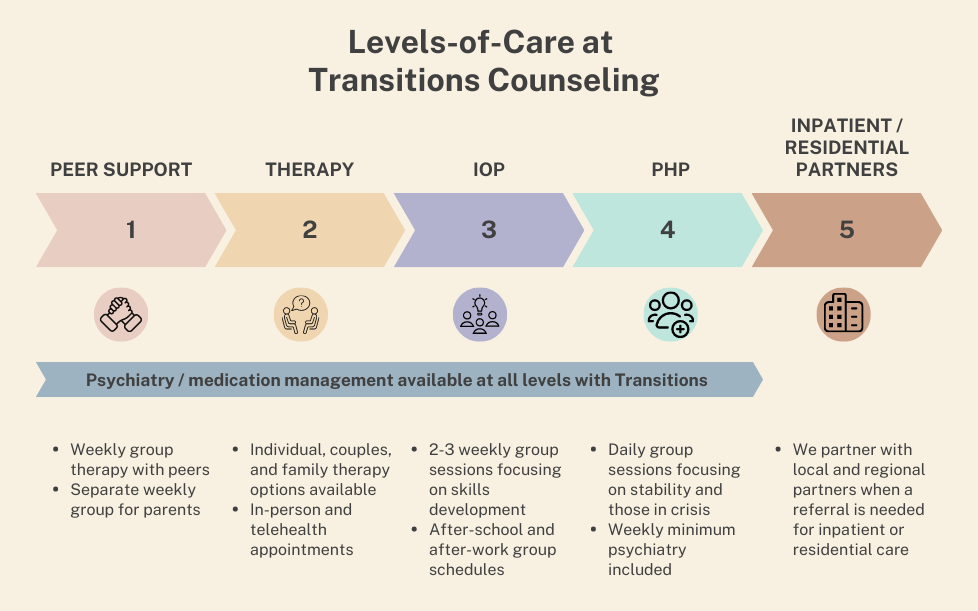 IOP Treatment Typically Features
Dialectical behavior therapy (DBT)
Group therapy sessions
Expressive art therapy
Family therapy and involvement
Access to parent support group
Evidence-based assessments to guide treatment
Referral access to in-house, experienced psychiatry providers
Easily transition to other levels of supportive care as your needs change
Teen Intensive Outpatient Program FAQs