Convenient Locations and Scheduling
Intensive outpatient programs (IOP) are highly effective and structured treatment options designed to provide comprehensive care and support for both teens and adults facing mental health challenges. With a focus on flexibility and convenience, IOPs offer therapy sessions after school and work hours, allowing individuals to receive the care they need while maintaining their daily routines. Our IOPs are in accessible locations and are designed to bring treatment closer to those in need, ensuring easy access to support.
At the core of an intensive outpatient program is an interdisciplinary team of professionals, including therapists, social workers, care coordinators, and other specialists, who collaborate to deliver a holistic approach to healing. The program's structured and intensive nature goes beyond traditional therapy alone, providing a higher level of support and intervention. This makes IOPs particularly beneficial for individuals who experience persistent or progressive symptoms despite therapy, allowing for a more concentrated and targeted approach to their mental health needs.
Personal Growth and Resilience
Whether it is for teens or adults, an intensive outpatient program offers a range of advantages. Participants receive specialized therapy, group support, and psychoeducation tailored to their specific needs, helping them develop coping skills, emotional regulation techniques, and healthier relationships. The structured environment and supportive community foster personal growth, resilience, and a sense of belonging. By providing an inclusive and convenient treatment option, IOPs empower individuals and offer hope for lasting recovery.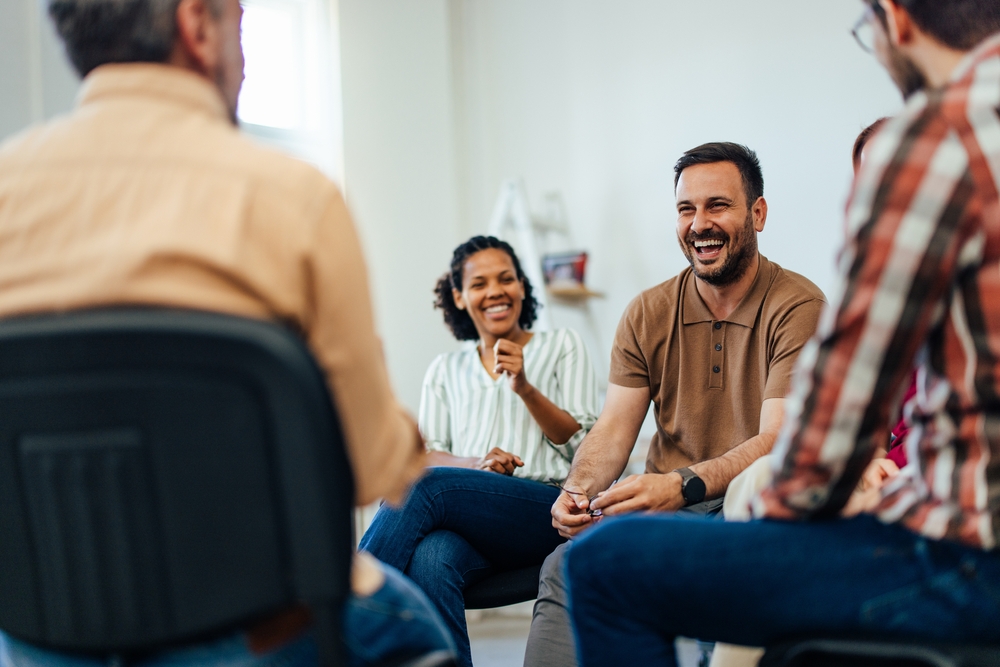 Intensive Outpatient Program Reference Guide
Mental Health Levels-of-Care at Transitions
Therapy involves regular sessions with a mental health professional to address emotional and psychological concerns, typically on an outpatient basis. An intensive outpatient program (IOP) offers a higher level of care with more frequent and intensive therapy sessions, often in a group setting, while
still allowing individuals to live at home. Partial hospitalization programs (PHPs) provide a more structured level of care than IOPs, involving full-day treatment and psychiatry support, while inpatient hospitalization or residential care offers 24-hour supervision and care within a hospital or residential facility for individuals with acute mental health needs.
Transitions Counseling offers multiple levels-of-care in one place, allowing you to receive comprehensive treatment, therapy, psychiatric support, and specialized programs tailored to your unique needs, fostering continuity, convenience, and holistic well-being.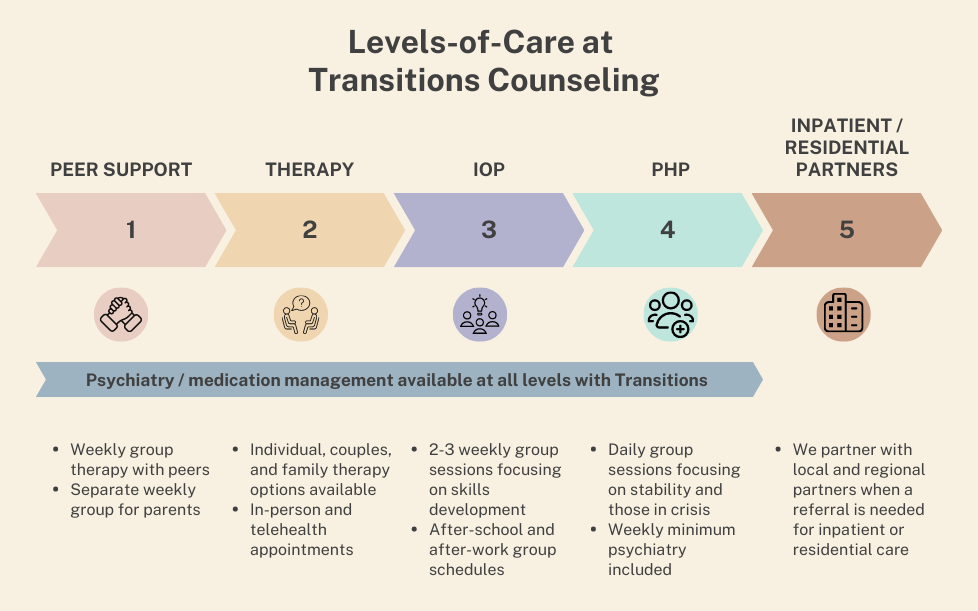 IOP Treatment Typically Features
Dialectical behavior therapy (DBT)
Group therapy sessions
Expressive art therapy
Family therapy and involvement
Access to parent support group
Evidence-based assessments to guide treatment
Referral access to in-house, experienced psychiatry providers
Easily transition to other levels of supportive care as your needs change
Intensive Outpatient Program FAQs
Intensive Outpatient Programs (IOPs) at Transitions Counseling offers a focused course of treatment that leads to rapid mental health recovery. In terms of hours of therapy, attending an IOP is similar to 1 year's worth of hours of individual therapy. It's meant to help speed recovery when you can't wait a year to start feeling better.
Accredited and Committed to Quality
Transitions Counseling is one of the few outpatient mental health clinics in Arizona to undergo a voluntary and rigorous accreditation process with The Joint Commission. This accreditation demonstrates our commitment to the highest standards of client safety and clinical quality.
Program Schedule
IOPs typically involve 3 hours of therapy per day, 3 days per week, usually for a total of 12 weeks, but can be extended if necessary. Attending each group session is important because increased attendance in IOPs has been correlated with improvements in mental health symptoms, quality of life, and community functioning.
What do you learn at an intensive outpatient program?
These programs help people learn skills to manage their mental health symptoms, develop healthy coping mechanisms, and improve their overall functioning. By using a group setting, IOPs also provide support and accountability that can help people stay on track with their treatment goals.
Focuses on CBT & DBT
The twelve week program focuses on the principles of Dialectical Behavior Therapy (DBT), includes group therapy sessions, and offers a parent group that teaches support strategies. During the program, individual counseling sessions may also be recommended. DBT is a structured treatment that focuses on teaching individuals skills to effectively manage their emotions and behaviors, cope with stress, and improve relationships with others. DBT has been shown to be effective at reducing suicide attempts and self-harming behavior, while improving depression and anxiety.
Includes Group Therapy
Group therapy sessions take place three times per week for a total of about twelve weeks. Despite the fact that most people naturally feel nervous about the prospect of group-based treatments, most people find that they actually prefer groups after trying them out. For more information, see our group therapy page.
Offers a Weekly Group for Parents
We offer a weekly group for parents so that they can also learn the skills being introduced in treatment to help support their child in practicing these skills outside formal appointments. Our weekly parent group is also an opportunity for parents to receive support themselves during this process.
Our Intensive Outpatient Programs
At Transitions Counseling, we offer intensive outpatient programs for different stages of life across our locations and via telehealth. Groups include:
Pre-Adolescent (ages 10-13)
Adolescent (ages 14-17)
College Age/Early Career Adults
Mid-Career Adults
Late-Career/Post-Career Adults
IOPs can be an effective treatment option for many people struggling with mental health issues. These programs can help people to learn how to manage their symptoms and live healthier, happier lives. If you or someone you love is in the middle of a mental health crisis, contact our team at Transitions Counseling today for more information on how our intensive outpatient programs can help you.